Rep. Barney Frank (D-MA) married his long time partner James Ready on Saturday. Frank is the first openly gay member of Congress and he is now the first to marry a same-sex partner.
From Reuters:
Massachusetts Gov. Deval Patrick  officiated the ceremony and added some levity by saying Frank, 72, and Ready,  42, had vowed to love each other through Democratic and Republican  administrations alike, and even through appearances on Fox News, according to Al  Green, a Democratic congressman from Texas.



// ]]>
"Barney was beaming," said  Green, who attended the ceremony. He added that Frank, a champion of gay rights  and the sweeping reform of Wall Street, shed a tear during the ceremony.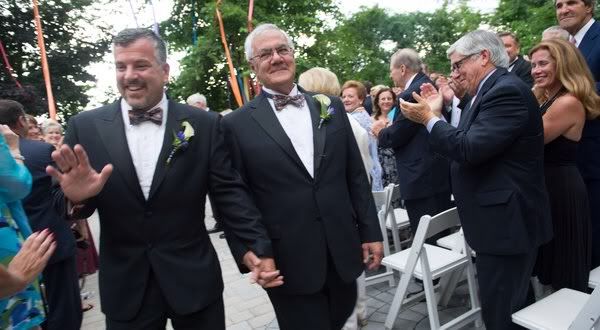 After exchanging their vows, Frank and Ready embraced each other, Green  said. "It was no different than any other wedding I've attended when you have  two people who are in love with each other," Green said.
Frank, who is retiring after this year, is one of the most high-profile members of Congress. He's best known as the former head of the House Financial Services Committee and as coauthor of the Dodd-Frank bill which enacted new financial regulations in the wake of the sub-prime mortgage scandal. He's also known as an advocate of progressive causes.
When Frank started his congressional career, he was in the closet. His marriage today proves that we have come a long way as a society since the 70s, but unfortunately, he'll be retiring before his dream of full LGBT equality comes to life.
A hearty congratulations to the happy couple.
Follow me on my new Facebook page or on Twitter, @wendygittleson