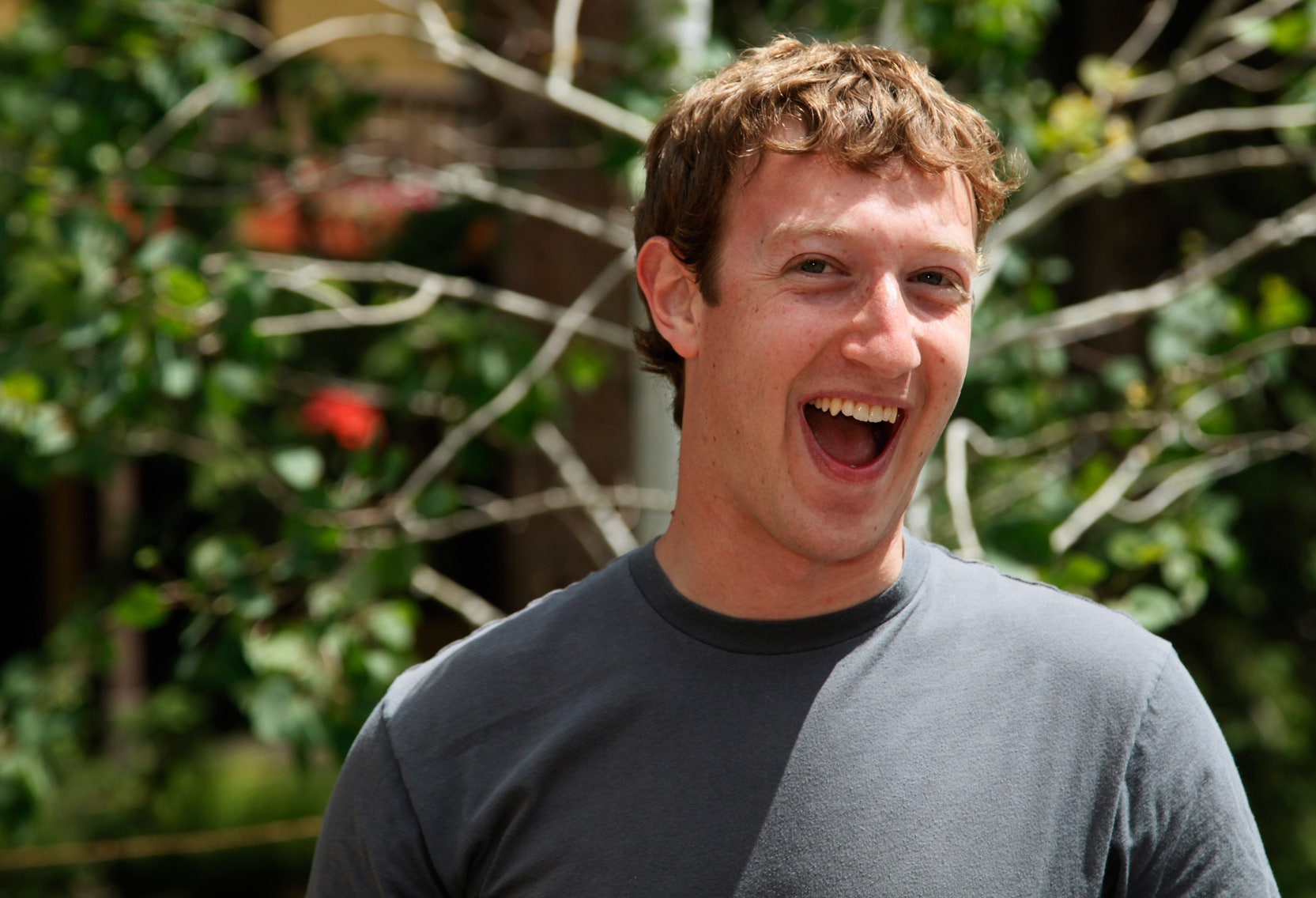 Facebook founder and CEO Mark Zuckerberg registered to vote in 2002 in Westchester County, New York. However, according to election officials, he didn't cast a ballot until November 2008. Records at the Santa Clara County Registrar of Voters (he moved) indicate he has not voted since. He registered in Santa Clara County as a "decline to state" voter in October 2008. (Bay City Citizen) 
Zuckerberg and Facebook have been known to be socially liberal, so imagine the shock-waves that went through U.S. liberals when New Jersey Governor Chris Christie spokesperson announced that Zuckerberg and his wife Priscilla Chan will be hosting a February 13th fundraising dinner for Christie at their Palo Alto, California home.  The Wall Street Journal has reported that this is the first time a fundraiser will be held at Zuckerberg's residence and the event will be the governor's first out-of-state fundraising event for his second gubernatorial run.
"Mark and Priscilla doing an event at their house is indicative of Gov. Christie's appeal. He's certainly a unique leader," said Christie campaign strategist Mike DuHaime. "Mark and Priscilla expressed interest in supporting the governor for reelection, and he's gratified to have their help," DuHaime said. "This illustrates that Governor Christie's sincere efforts to improve education where it is so badly needed have not gone unnoticed. Education is an issue Gov. Christie cares deeply and passionately about, even though fighting for education reform has not always been politically popular or easy." (BuzzFeed)
DuHaime said it was a sign of Christie's popularity, and recent polls have shown record approval for Christie. This is despite Christie coming under attack from other Republicans since Hurricane Sandy because of his near-endorsement of President Barack Obama.
"It's indicative of how strong his appeal is across the political spectrum," DuHaime said. (Wall Street Journal)
Christie's statement when asked about the upcoming dinner was:
"When Mark Zuckerberg and Priscilla Chan offer to hold a fundraiser for you, you say, 'Yes sir, what time should I come?' They're both wonderful people, have become very good friends to me and to Mary Pat…and I'm certainly happy to have their support in the election." (Wall Street Journal)
The young billionaire and the Republican governor first became acquainted in 2010 when the pair teamed up with Newark Mayor Cory Booker and Oprah Winfrey on The Oprah Winfrey Show. Zuckerberg donated $100 million to Newark's public schools and he and Christie became friends. Christie stayed with Zuckerberg and Chan during a previous visit to Facebook headquarters.  (Washington Post) 
As their friendship evolved, Zuckerberg expressed interest in helping Christie during his second gubernatorial run and Christie welcomed his support.
"Mark and [his wife] Priscilla have worked closely with Governor Christie on education reform in the Newark school system," Facebook spokeswoman Sarah Feinberg said. "They admire his leadership on education reform and other issues and look forward to continuing their important work together on behalf of Newark's school-children. Mark and Priscilla are happy to host him at their home to support his reelection." (BuzzFeed)
Facebook has been trying to become more involved in politics since hiring COO Sheryl Sandberg in 2008. Sandberg, chief of staff at the Treasury during the Clinton administration, is a registered Democrat and votes regularly. Sandberg donated some pretty big bucks to Democratic politicians in 2011 and 2012. She did, however, host a Facebook town hall meeting for Governor Christie in 2011.
The Facebook corporate PAC donates to Republican and Democratic politicians, but it tends to lean right in favor of Republicans. (CNN)
While it is surprising that a company with a liberal image would heavily fund GOP candidates, it is absolutely shocking that they've funded some of the most high-profile and notoriously unpopular Republicans (with the exception of Marco Rubio). A short list of politicians who have received Facebook donations:
Senator John Kerry
House Minority Leader Nancy Pelosi
Senator Marco Rubio
Speaker John Boehner (wince)
Senate Majority Leader Eric Cantor (gasp)
Senator Ted Cruz (ugh…)
House Majority Leader Mitch McConnell (this is where I simply faint)
Huffington Post writer David Callahan wrote an article in April, 2011 titled "Silicon Valley: More Liberal Than Ever? He noted that when Zuckerberg hosted a town hall meeting at the Palo Alto,California Facebook Headquarters, "he sure did seem happy to be sitting next to Barack Obama." When Obama said that the wealthiest Americans need to pay higher taxes, Zuckerberg agreed. From the transcript:
President Obama: And then what we've said is let's take another trillion of that that we raise through a reform in the tax system that allows people like me — and, frankly, you, Mark — for paying a little more in taxes.

Zuckerberg: "I'm cool with that."
In the same conversation, Zuckerberg asked President Obama a question about the deficit. "What specifically do you think we should do, and what specifically do you think we can cut in order to make this [the deficit] all add up?"
Was this a clue that we all missed?
The Huffington Post article ended with Callahan saying:
"One thing is clear: When Facebook goes public, it's not just its investors who are going to win big: It is also Democratic fundraisers." (Huffington Post)
Huffington Post writers generally nail it. But who could have predicted this?
This isn't Zuckerberg's first political faux pas (if he considers this a faux pas). In February, 2012, Farhad Manjoo, a writer for Slate and friend of Zuckerberg, posted this Facebook status message:

 Zuckerberg "liked" the status because of the humor in his friend's post, but unfortunately, the "like" showed up in his timeline without the joke, giving the appearance that Zuckerberg was endorsing Mitt Romney. The problem is, all eyes are on Zuckerberg. If I accidentally like a post that is in contrast to my political views, almost no one notices. When Zuckerberg does it, it's screen-shotted immediately, by one or more people, before he can even click "unlike."
 Here's what showed up in Zuckerberg's timeline:
Ouch.
Fans who mistakenly thought Zuckerberg was supporting Mitt Romney were shocked and enraged:
This is ridiculous! Mark should either support Obama or just keep his mouth shut!!
Zuckerberg must have been hacked, or he's changing the spelling of his surname to Suckerberg.
wth..I can't believe it!…
Does this mean that he can go into any of our profiles? and FYI Zuckerberg is a well known Obama supporter – he is definitely not supporting Romney.
No way Jose, there is no way Mark Zackaberg would ever support Romney. Their values clashes,. The dude says he dont care about the little guy, no american talk like that.
Everyone is missing why Mark Zuckerberg likes his friends link. It's because his friend was pointing out that it's hard to see the bumper sticker without the word MONEY subliminally being conveyed. He doesn't support Romney. LOL
Not even the Republicans are into Romney (judging how he lost in 3 states tonight) – obviously Zuckerberg is for Obama!!
Really why, Unlike, Unlike
Mark, I thought you are a democrat!?
Mark Z did what ? Really ……… wow
In January, 2012, Facebook made a public statement opposing SOPA and other legislation that would "hurt the internet."
"The internet is the most powerful tool we have for creating a more open and connected world. We can't let poorly thought out laws get in the way of the internet's development. Facebook opposes SOPA and PIPA, and we will continue to oppose any laws that will hurt the internet." (The Consumerist)
Hey, Zuck? It's the GOP that wants to "hurt the internet!"
The Democratic Governor's Association has attacked Christie as a "right-wing Republican darling" and asked Zuckerberg to cancel the event (I think they're wasting their time). (Wall Street Journal)
Their statement:
"Chris Christie has failed New Jersey on every measure — unemployment, foreclosures, and property taxes are up, all while he's blown a hole in the state's budget," DGA spokesman Danny Kanner said in a statement. "There's just nothing in his record to 'like,' which is why voters will turn the page on him in November." (nj.com)
I sent Zuck a message. It's still free to do that (it may change), though it was pointed out to me by my fellow writer Elisabeth Parker that it likely hit his "other" inbox folder since Zuck has not yet accepted my friend request.
"I do understand friendship, and he most certainly has the right to spend his billions as you wish. But if you're going to be hanging out with Chris Christie, please use that opportunity to teach him some solid liberal values…and whatever you do, don't go right on us."
I'll let you all know what he says in his reply. (wink)
---
I am an unapologetic member of the Christian Left, and have spent a lot of time working with "the least of these" and disadvantaged and oppressed populations. I'm passionate about their struggles. To stay on top of topics I discuss, subscribe to my public updates on Facebook, follow me on Twitter, or connect with me via LinkedIn. I also have a grossly neglected blog. Find me somewhere and let's discuss stuff.