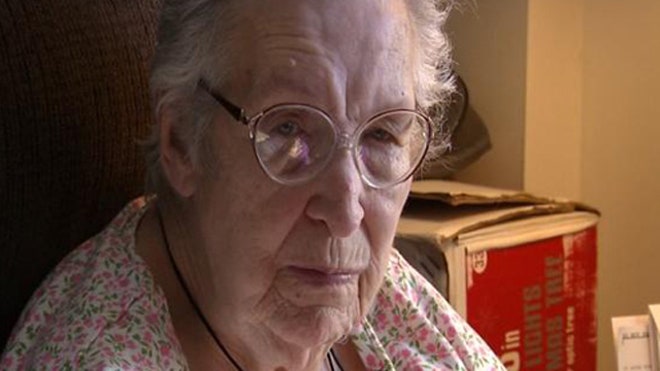 (Video Still of Margaret Schneider in St. Peter, Minn via @Fox9)
Hooray! In their efforts to disenfranchise tackle that ever-so crushing 0.0002 percent problem of voter fraud (equivalent to the number of UFO sightings and the money spent on House Speaker Boehner's tanning bed solution), the GOP finally nailed one of those sneaky, derelict voters. Never-mind that the guilty party is an 86-year-old woman with dementia, who says she forgot she had already sent in her absentee ballot when she went to her polling place in November. Whip out the Mission Accomplished banner and send this octogenarian to Gitmo!
Margaret Schneider, an 86-year-old woman suffering with dementia, mistakenly voted twice in the 2012 primary elections: once by absentee ballot on July 13 and then again on election day, Aug. 14.
"It's very hard to remember everything," said Schneider. Adding, "I've always voted, ever since I've been old enough to," she said. (Fox News)
That's precisely what these old dementia suffers want us to think; they use their silly degenerative neurological disorders as an excuse to break the law and make Karl Rove and Dick Morris upset. Before you know it, she'll be saying she accidentally stole batteries for her way too expensive medical device that Medicare won't reimburse.
The Nicollet County Attorney's Office is charging Margaret with voting twice during the 2012 election, according to the Mankato Free Press. Schneider, who now recounts the innocent mix-up (or so she wants us to think since being paid off by the Kenya Socialist's Chicago goons), feels she shouldn't have been allowed to vote twice in their first place.
"It had been awhile and I didn't even remember. I was shocked to death because I thought my absentee ballot was for the president," Schneider told the paper. "I think if I'm convicted, they should be convicted too. They knew I had voted already, so they shouldn't have let me vote." (Huffington Post)
Schneider, convinced that it was an honest mistake and therefore will not be seeking out legal counsel, is scheduled to appear in court on April 2.
No word yet on if whether the 86-year old with Parkinson's disease is also responsible for Benghazi. But it seems like an equally good waste of time and tax payer money to find out.
 Michael is a comedian/VO artist/Columnist extraordinaire, who co-wrote an award-nominated comedy, produces a chapter of Laughing Liberally, wrote for NY Times Laugh Lines, guest-blogged for Joe Biden, and writes a column for MSNBC.com affiliated Cagle Media. Follow him on Twitter and Facebook, and like NJ Laughing Liberally Lab if you love political humor from a progressive point-of-view. Seriously, follow him or he'll send you a photo of Rush Limbaugh bending over in a thong.