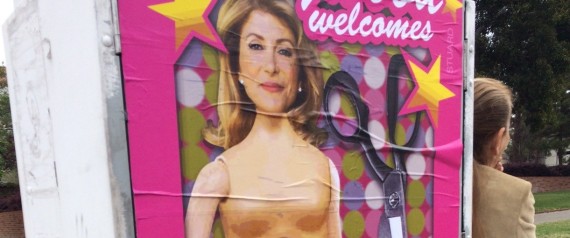 Conservatives  get humor like they get science, and therefore should just stick to what they're even better at: hypocrisy and accidental humor. Conservative pundit and overall dickhead Erick Erickson (real original name) previously thought it would be hilarious to call Texas state Senator and Gubernatorial Candidate Wendy Davis "Abortion Barbie"  . You see,–Wendy Davis, although sponsoring a plethora of non-reproductive rights bills, just happens to give a crap about a woman's individual right to choose. So that must mean she loves murdering fetuses, not allowing them to grow up saddled with enormous student loan debt or starve to death, like conservatives often do.
Conservatives greet Wendy Davis with  'Abortion Barbie' poster outside fundraiser in  Los Angeles.
Earlier today, the Texas Gubernatorial Candidate and real life Khaleesi-from-Game-of-Thrones was greeted by ever-so creepy, life-sized posters depicting her as "Abortion Barbie" ahead of a fundraiser.
Here's the poster:
The campaign of Greg Abbot, Davis' Republican opponent who previously thanked a supporter who called Wendy Davis a "retarded Barbie," claimed it did not know who set up the disgusting poster.
Why calling Sarah Palin "Caribou Barbie" is totally different
Conservatives used to get all indignant when liberals and moderates (hell, even apolitical swing voters) would call Sarah Palin "Caribou Barbie." See, Sarah proved to be a totally vacuous weirdo from Alaska so it just fit so nicely. Worse yet, she was also an absolutist moralist while sanctimoniously parading her unmarried pregnant teenage daughter around. In other wards, calling her "Caribou Barbie" was innocent and quite tame; I often refer to her as Snow Whitetrash. Not only is it disingenuous and utterly cheap to liken someone who's fighting to ensure that her ultra-conservative state doesn't force women to have dangerous abortions "Abortion Barbie", but actually putting a plastic baby inside a Barbie doll is so not cool.