As I started my quick run through of morning New shows, I was completely brought to 'alert' by something that is nothing shy of intriguing. CNN reported that the job numbers for July and August 2011 have been adjusted to reflect higher numbers. (the previous link include actual jobs data for July, August and September).
Last month the world was told that the unemployment numbers were not good at all; in fact the August numbers were terrible.  The number of jobs added to the U.S. economy in August 2011 was Zero. A big fat Zero.
The zero job growth in August generated both buzz and unusual behavior from President Obama. During September, republicans rolled with a new talking-point, and man did they roll with that number. President Obama then did something quite uncharacteristic.
As he walked towards across the White House lawn, headed to a jobs bill speech day-trip, he ignored all cameras. The President was not in a frame of mind to show his normal congenial self. The zero jobs number was so disappointing, it caused drooped shoulders and an obvious bruised confidence level.
Today, I hear that the jobs number for September is a good report. CNN is also reporting that the July and August numbers have been adjusted upward.  What?
Now, how does that happen?  The July and August numbers certainly did not denote serious improvement in the economy, nor do the revised numbers impact the unemployment rate. Yet, there is a dynamic associated with those numbers and the agency–the Dept. of Labor–'blew' their communication.  The dynamic is pure and simple, mistakes in reporting any number that impacts  the economy during these difficult items has an impact in multiple areas.  The Stock market shudders when the numbers are bad: people lose money in their stock related savings plans. Companies may use the economic indicator for financial planning adjustments.  Republicans used the 'false' numbers as a talking point to wrap messages to their base and independents. The Administration's shoulders and head droop, during periods when we need that entity full engaged and fighting their number one nemesis; the Republicans.  What if the administration 'caved' to a republican demand  based on the July and August numbers?  It is that serious.
I am most assuredly not waving the 'we are winning' flag over the revised numbers.  However, does the chart on this page look a lot better than previous chart.
Again, the following illustrations do not represent pure, 'cause celeb' but the charts seem a bit more palatable.  The revised chart (bottom chart) shows better results than the top chart.
You would think that the Administration will do all it can to make sure that these kind of adjustments are held to a minimum as we move into an election year.
P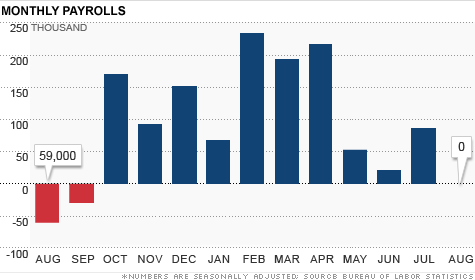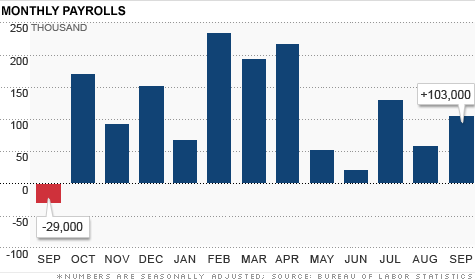 The charts do not show 'high-five' jobs growth but the picture looks much better than was reported previously. The September number came-in at almost double expectations.

Related posts: